PEACE TALKS: STORYTELLERS FOR PEACE (KUNM Airdate: 8/29/03)
From 1953 to 1981 a silver haired woman calling herself only "Peace Pilgrim" walked more than 25,000 miles on a personal pilgrimage for peace - and somewhere along her travels she said this , "One little person, giving all of her time to peace, makes news. Many people, giving some of their time, can make history."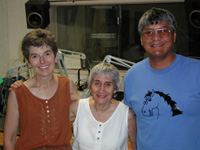 Peace Talks: Storytellers for Peace. The monthly series on peace making focuses this time on storytellers whose tales pass along ideas of cooperation, peace-making, and non-violent conflict resolution to the audience. Host Suzanne Kryder talks with Sarah Malone, Leah Alexander and Ron Hoskie (shown here). Each shares a story and talks about the power of stories to communicate strong values.
Click here to hear the program in RealAudio. You may also find out more at www.peacetalksradio.com
CD copies of this program are available. Each CD also includes 15 minutes of bonus material. For more information, email info@peacetalksradio.com or send a check made payable to GOOD RADIO SHOWS, INC. in the amount of $15.00. The price includes postage and handling. Mail your check to Good Radio Shows, PO BOX 35442, Albuquerque, NM 87176. Expect delivery in 2 to 3 weeks.
For more informaiton about Sarah Malone's Holding Up The Sky: Peace Tales for Kids CD, whose sales proceeds will go to peace charities including Good Radio Shows' Peace Talks series, click here.
To read a column by Kate Nelson of the Albuquerque Tribune about Sarah Malone's "Peace Tales," click here.
SARAH MALONE: I think how we tell our stories can have an incredible impact, not just on ourselves in terms of how we feel, but (also) how we live our lives, now we relate to others, on the personal, the family, the community and the global level. For example, right now, in the UNited States, we've been having a national "storytelling," so to speak, about what's going on in our nation and in the world. And the story is being told largely in terms of fear, and terror and war. And though the word "peace" is used, there isn't a whole lot of description of what does it mean to be a peacemaker with your neighbor, with your child, with your friend. I happened to work in a school and I've seen lots of evidence of children who (find it) hard to imagine the story being told from a peaceful perspective.
LEAH ALEXANDER: I love an adult audience. Adults get transported as much as children do. All you have to do is look at their faces while you're telling and you know they're in some kind of altered state of consciousness, where the story is just speaking directly to them.
RON HOSKIE: It's amazing how many adults like to hear stories. We grow each day and we learn new things and it's wonderful to be able to share these things. These things are what storytelling is all about. It helps each person and the younger people as well to grow to be better people.
WEBSITES AND OTHER RESOURCES
Holding Up The Sky: Peace Tales for Kids by Sarah Malone
Healing Story Alliance - Home Page
Healing Story Alliance - Peace Page
International Storytelling Center
The National Storytelling Network
For information about "Plough Shares," the developing troupe of New Mexico Storytellers for Peace, contact Leah Alexander at 505-737-0258.
To book Sarah Malone as a storyteller, contact her through the web site, www.peacetales.org.
For more about Ron Hoskie's group Cumulonimbus and the CD Rain Brings Changes, write P.O. Box 11313, Albuquerque, NM 87192.
MORE ABOUT PEACE TALKS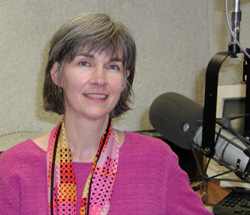 Peace Talks is a series of public radio programs that investigates how people can make peace and pursue nonviolent solutions to conflict - within themselves, their families and communities, and the world. In addition to the KUNM half-hour series, a national series is in development. Each episode of Peace Talks national series would be recorded before a live audience in a town hall format at venues across the United States and will feature a renown leader in peace studies or negotiation as well as a peacemaker chosen from the host community.
In these tumultuous times on the planet, the Peace Talks series intends to offer listeners around the globe a chance to learn useful skills to address the conflict in their own lives. Peace Talks will bring them in contact with some of the leading proponents of nonviolent conflict resolution - individuals who have made the pursuit of peace their life's work.
Peace Talks promises to be at once realistic and uplifting - and ultimately - a source of hope in troubled times.
Peace Talks is produced by Paul Ingles, a 28-year veteran radio producer and Suzanne Kryder, Ph.D., a leadership coach and longtime group facilitator.
Peace Talks is currently in the development and fundraising stage. To learn how you can help, send an e-mail to paul@paulingles.com or call 505-771-8295.