BEFORE THE TAPING: (from left) Bob McCannon, Anthony Wilson, Karen Foss, Marcos Martinez, Jayne Bower, Wally Dean, Paul Ingles.

Wally Dean of the Committee of Concerned Journalists/ Project for Excellence in Journalism and Karen Foss, KSDK-St.Louis News Anchor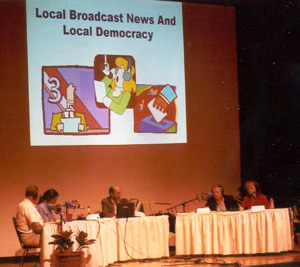 Bob McCannon of the New Mexico Media Literacy Project and Anthony Wilson, reporter and anchor for ABCTV11 in Durham, North Carolina.
RESOURCES
CD Copies of "Local Broadcast News and Local Democracy" include 20 minutes of bonus discussion. Send a check made out to "Good Radio Shows, Inc." in the amount of $15 (includes shipping and handling). Mail to Good Radio Shows, Inc., PO Box 444, Placitas, New Mexico 87043. Allow 2-3 weeks for delivery. Proceeds go to the non-profit media work of Good Radio Shows, Inc.
PBS Documentary "Local News" Web Site has more about the TV series and many interesting links and other details about what goes on in local television newsrooms.
Project for Excellence in Journalism:an initiative by journalists to clarify and raise the standards of American journalism. The Web site includes a number of research reports, including The Local TV News Project where you may be able to find how your own town's local news team sizes up.
Local TV News Coverage of the 2002 General Election: a report by the Norman Lear Center at the USC Annenberg School (.pdf).
Pew Center Studies on Journalism: links to public opinion polls and survey results.
Radio-Television News Directors Association: a professional organization, devoted to electronic journalism. RTNDA represents local and network news executives in broadcasting, cable, and other electronic media in more than 30 countries. The Web site includes sections on ethics, research, newsroom resources, technology, and training workshops.
Online NewsHour: Changing Local News / A Media Watch Special Report :an in-depth look at the changing face of local news that includes television journalists such as Carol Marin and industry experts like Deborah Potter, the Executive Director of NewsLab, a non-profit group that encourages quality in local news.
NewsLab: a non-profit television news laboratory, that seeks to serve local stations by helping them find better ways of telling important stories that are often difficult to convey on television. This site includes resources for newsrooms and an extensive list of articles and research on local news.
American Journalism Review has good information for print and broadcast journalists. Links to news sources, journalism organizations, and research collections.
Action Coalition for Media Education promotes media education, independent media production, and reform.
Alliance for a Media Literate America promotes media literacy education that is focused on critical inquiry, learning, and skill-building.
New Mexico Media Literacy Project offers speakers, multimedia workshops, and unique videos and CD-ROMs on a variety of media literacy topics.