How It Came To This
By Paul Ingles (Click on Hot Links for Audio Samples)
I was one of those kids in the sixties that latched on to radio as a good friend. I grew up in the Maryland suburbs of Washington D.C. listening to Washington Senators games, Top 40 music radio, and later progressive FM. I was a sportswriter and photographer for the Walt Whitman High School paper and got my first professional journalism paycheck from the Journal Newspapers, a suburban weekly.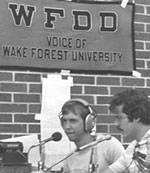 At Wake Forest University, I figured I'd pursue print journalism as well but wound up accepting a dare from one of my dorm-mates to go up to the university radio station, WFDD (aircheck) , and get my own music show. Stepped into my first radio station there in 1975 and have been working in radio and television ever since. At WFDD, you could do it all if you gave it the time. And I sure tried to do it all - rock, classical and jazz music shows, news and sports reporting, remotes, student staff management. I did a news internships at WASH (aircheck) in Washington and WXII-TV in Winston-Salem. I couldn't get enough. A great break for me came along when WFDD became the flagship station for the Wake Forest Sports Network and I became the remote engineer and auxiliary color man for a couple of years. I also filed my first reports for the then fledgling National Public Radio network while still at WFDD in 1977 and '78.
CHARLOTTE, NORTH CAROLINA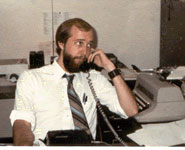 My first real job was as a radio and print reporter for WAYS (newscast) Radio and the WEEKLY NEWPAPERS in Charlotte, North Carolina, in 1978. I was primarily a city hall beat reporter in a competitive news reporting market.
After about a year there, I was offered a job as city hall reporter for the NBC-TV affiliate, WRET-TV (news reports). Then owned by Ted Turner but in the process of being sold to Westinghouse during my tenure. A hiring freeze during the sale meant that no one who left was replaced and I think by the end of my 9 months or so there, I was one of two reporters that seemed to be doing all the stories for the evening newscasts. It was fun for awhile and I'm glad I tried it but I think it cured me of any desire to become a full-time television reporter.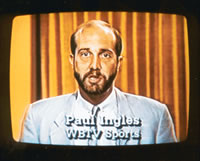 I left in the fall of 1979 to work as Sports Director where I had always wanted to work since graduation - legendary WBT (aircheck) in Charlotte. Its coast-to-coast north-south nighttime signal and a history spanning back to the 20's helped make it the market leader. I wound up doing both morning and afternoon drive-time sportscasts and co-hosting the morning show with a parade of morning men in 5 years there. For a couple of years, I managed also to do a morning TV sportscast on WBTV (TV sportscast) down the hall. After awhile, I became more intrigued with the overall programming of radio, applied to become WBT Program Director, didn't get the job, and decided to step down from the lofty pedestal and mighty audience of WBT to learn more about programming at a smaller station.
That station was WGSP (mini-doc). An AM daytimer that was programming oldies of all kinds when I was hired as morning man and Program Director in 1984. Ultimately, we turned it into one of the country's first real classic rock stations in 1985 and really began to attract some attention. We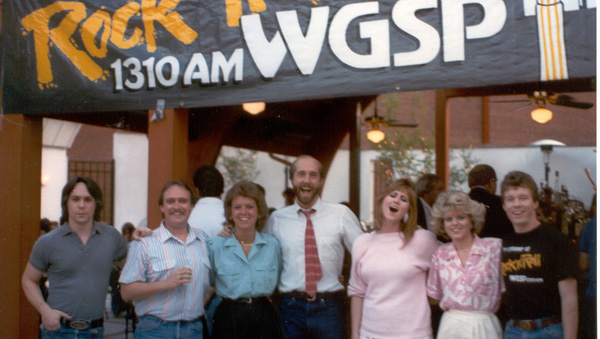 were the second most listened to AM station (to WBT) in the market and we had a blast - for awhile. Our weak signal and out-of-town owners limited us. Another FM station started doing the format, WGSP (aircheck) was sold to religious broadcasters in 1986, and the staff scattered.
I continued in Charlotte for a time, doing a gig I'd picked up back in 1978, the host of a weekly news roundtable on WTVI (TV clip), the public television station. Kind of a local Washington Week In Review. But by the summer of '86, I was heading west!
ALBUQUERQUE, NEW MEXICO
Why Albuquerque? Love, that's why? My then-girlfriend, and later wife, Suzanne, was getting a doctorate at the University of New Mexico. I went out without work but managed to get hired as Promotions Director at a new FM start-up, KKBR (profile) . Programmatically it was ahead of its time. A cross between AAA and Classic Rock - somewhat modeled after KBCO in Denver. Over my year there, I was elevated from promotions to on-air talent, then finally Program Director. Our impatient and under-funded owners gave up on the format (way too soon) and went to satellite oldies and I was, for the first but not the last time, fired.
Even though I had only been in radio 11 years by then, I thought I knew it all, and tried setting up my own medium and small market consultancy, calling it Rock Radio Concepts. Had a great brochure, some good ideas and basically no clients. I worked part-time as a production assistant and weekend air talent at the local rock music leader KZRR -94 Rock (aircheck) until a strange thing happened.
CLEVELAND, OHIO
I got a call late in 1988 from the owners of a classic rock station in Cleveland, Ohio. The owners were the same ones who had come into Charlotte and taken the classic rock of WGSP to FM. They had offered me a job in Charlotte then but it wasn't Program Director and besides, Suzanne was in Albuquerque, so we didn't hook up then. Frankly, they were having a hard time hiring someone for their Cleveland station because it meant going up against the legendary rocker WMMS - The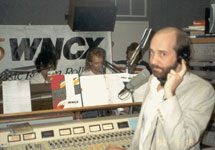 Buzzard. I don't really know where I was on the ladder of candidates. I might have been the only person who didn't know what I was getting into and said yes. So I moved to Cleveland in November of 1988 as Program Director of WNCX (montage) .
WNCX was kind of already on its way to mounting a legitimate challenge to WMMS when I got there. We made a few changes, souped up the marketing a bit and before long we had tied WMMS in the 12+ratings and topped them in many of the key demos. It was exciting, high-pressure work - fun but tough on the nervous system. When a third general manager came on in 1990 and the ratings wobbled a bit one book, I was sacrificed - first demoted to Assistant Program Director, then let go. Fired for a second time. Ouch!
It was the best thing that ever happened to me. I went to Cleveland State for a communications masters degree, started dabbling in public radio again -at WCPN (show clip) in Cleveland- and basically redirected my career. Specifically we redirected back to Albuquerque in 1992.
ALBUQUERQUE, PART TWO
For two years, I part-timed at three different commercial radio stations at once, doing Classic Rock at KLSK (aircheck) , news at KQEO, and "lite-rock" at KMGA (aircheck). You'd think three stations at once would have been enough but I also volunteered at public radio KUNM (website) at the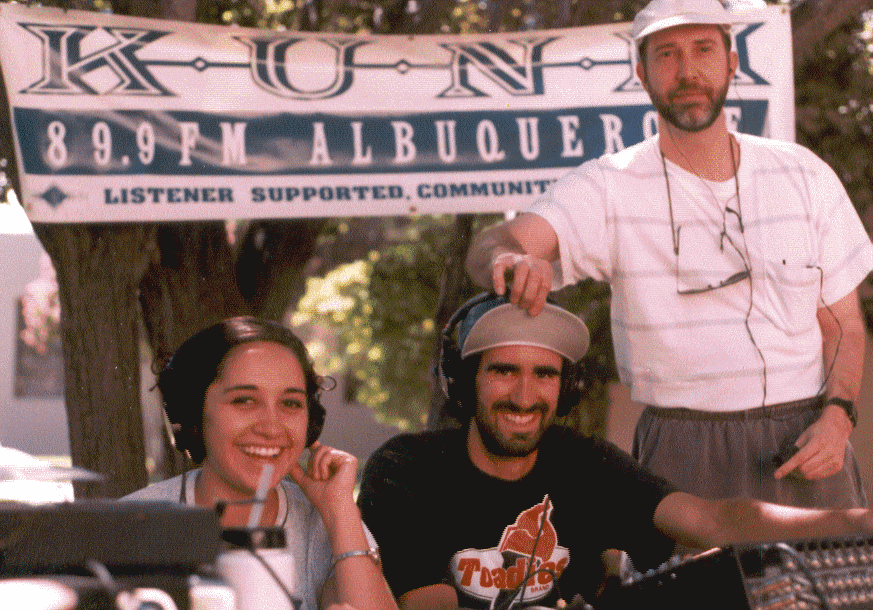 University of New Mexico. When the KUNM Production Director position came open in 1994, I applied and was hired. It was a life-changing event, being hired there. At KUNM my experience was welcomed in the non-stop training environment of community radio. I shared what I had learned AND learned so much more in my 8 years in that post. I worked on great projects, met great people and helped create some good radio that really served the community in an important way.
After about 5 years in that position, I got the bug to do more free-lance reporting and production and thankfully KUNM accommodated my request. I went to part-time in July of 1999 and opened my own home studio and production company, Cedar Creek Studios. By 2002, I was ready to make a go of it full-time as a free-lancer and that, my friends, is how it came to this!